Skip to Content
Professional Roofing in Alabama and the Florida Panhandle
Residential and Commercial Roofing
Here at Homesouth Roofing LLC, we take great pride in building and repairing roofs that reflect the natural beauty of the city we live and operate in—Wetumpka, AL. We are a fully licensed and insured commercial and residential roofing company offering roof repair, roof replacement, roof maintenance, roof inspection, emergency roof repair, shingle preservation services, and more. In addition, we can repair or install virtually any roof for your home or place of business. We want you to be able to rest easy knowing that you have a sturdy and long-lasting roof over your head. As a locally owned roofing contractor company, we are proud to offer our services in Montgomery, AL; Mobile, AL; Birmingham, AL; the surrounding areas as well as Pensacola, FL and the Florida Panhandle. Our team features some of the most experienced roofers in the state so no matter what your project entails, your roof is in professional hands. Much of our business comes from the referrals of past clients, which speaks to the reputation we have for quality work and excellent customer service. Give us a call today to have your roofing issues taken care of!
Working With Us
When you hire us for roofing services in the Montgomery, AL area, you can expect friendly service and prompt completion of your roofing project. We know that you can't wait around forever while a roofing crew is working on your property. That's why we make sure that we give you an accurate timeline for completion at the outset of the project and that we work hard to get the job done in a timely manner. Our customers also appreciate the fact that we keep them informed at every stage of the project and that we make sure they know what to expect from the outset. We have decades of experience with roofing, and we focus solely on this trade so that we can provide the most knowledgeable roofing service in the area. Here's a bit more of what you can expect from working with us: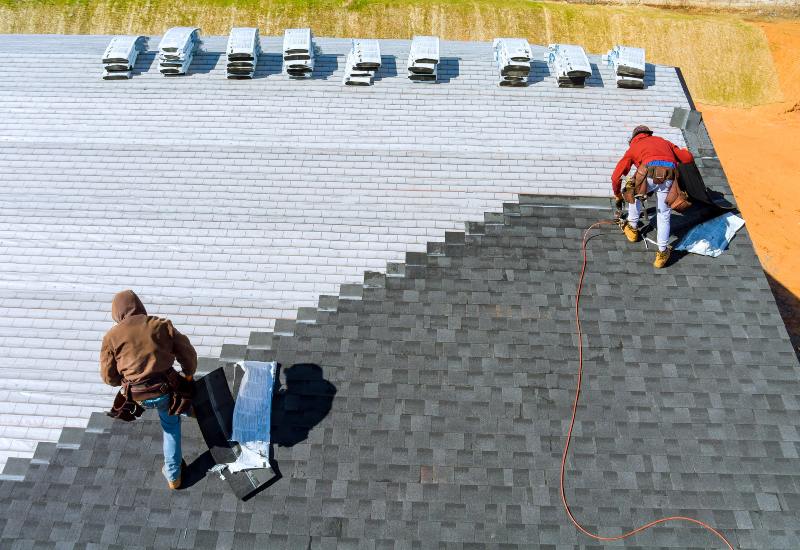 Long-Lasting Quality – We build everything in accordance with local codes and we adhere to manufacturers guidelines for installation. Our goal is to build you not only a beautiful, functional roof; but one that stands the test of time.
Easy to Understand Quotes – A lot of unscrupulous roofing contractor companies will try to confuse the customer into paying for things they don't really need. When we give you an estimate, we are transparent. You will know exactly what needs to be done and how much it will cost.
Help When You Need It – We also offer fully licensed, certified, and insured emergency roofing services that can take care of hail damage, damage from heavy rain, wind damage, and even damage caused by a lack of maintenance.
Talk to Us
We hope you will use this page to reach out to us if you have any commercial or residential roof repair, installation, or maintenance needs. You can fill out the contact form provided, and we will get back to you shortly. You can also call us or visit us at:
Phone – 334-202-3975
Address – 3996 US HWY 231 Wetumpka, AL 36093
We will make sure that a knowledgeable and helpful staff member will be available to field all of your questions. Our professional team will be happy to get your project underway promptly, so you won't have to go another day without getting your roof in tip-top shape. Get in touch with us today for a stronger roof!
Homesouth Roofing
Address
3996 US HWY 231
Wetumpka, AL 36093
Phone
334-202-3975
Hours of Operation
Monday: 8:00 AM – 5:00 PM
Tuesday: 8:00 AM – 5:00 PM
Wednesday: 8:00 AM – 5:00 PM
Thursday: 8:00 AM – 5:00 PM
Friday: 8:00 AM – 5:00 PM