Skip to Content
Benefits of Roof Coating in Alabama and the Florida Panhandle
Roof Coatings for Montgomery, AL

In Montgomery, AL, we get our fair share of extreme weather. From blazing heat to hail, our roofs take a pounding every year. That's why it's so important to protect your commercial or flat roof. Here at Homesouth Roofing LLC, we offer roof coatings of all kinds. We want to give you the options that will work best for your budget and your building. Of course, a roof coating will only be as beneficial as the quality of installation, so we focus on top-quality craftsmanship during application. Our methods are precise, and we don't spare any detail or effort for our customers. Roof coatings can save you a significant amount of money on your electricity bills by making your building cooler. And using your AC less often is a bonus for the environment. But to reap all of the benefits of roof coatings, you have to have them applied professionally. Our team has the experience and skill to apply a roof coating that will protect your building and make it more efficient. Save money and the environment by using our roof coating service!
Roof Coatings We Offer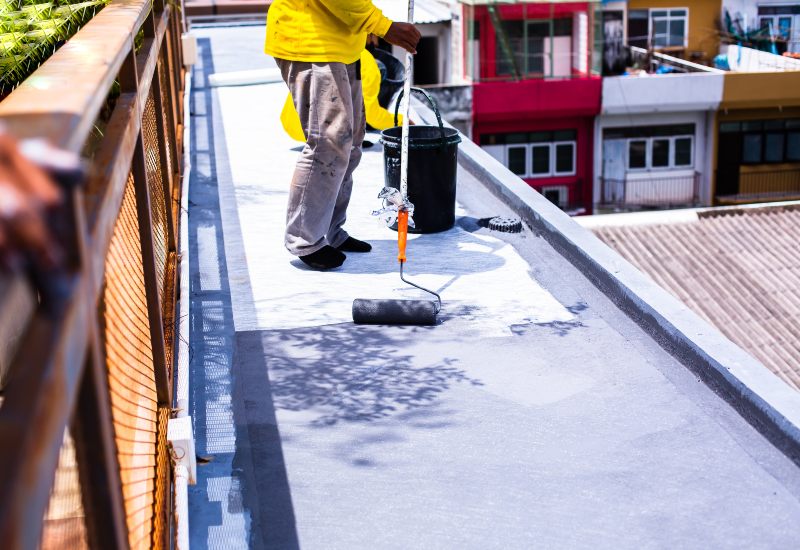 It's a point of pride for us to be able to offer our customers a wide array of options. But you have to know a thing or two about the different types of roof coatings in order to make the best decision. We always want our customers to feel confident that they've made the best decision for their property, so please take a minute to review the following breakdown of the roof coatings we offer:
Elastomeric Roof Coatings – These offer a great way to weather and waterproof your roof. Elastomeric coatings form a pliable membrane on your roof's surface that offer great leak protection.
Silicone Roof Coatings – Silicone roof coatings can be rolled or sprayed on and are excellent for filling in cracks and seams in the existing roof structure.
Acrylic Roof Coatings – Acrylic roof coatings are applied as a liquid, so they offer good protection against cracks and blisters. A great benefit of this kind of roof coating is that it is applied monolithically so there are no seams that can become vulnerable to leaks over time.
Why Opt for Roof Coating?
So why would you want to get a roof coating? The simple answer to that question is that roof coatings offer many benefits for your building. To get into more detail, take a look at what those benefits are:
Extended Roof Lifespan – Shoring up cracks and adding an extra layer of protection to your existing roof will help it to last longer.
Reflective Surfaces – Our roof coatings can be made to reflect a high volume of UV rays. This will keep your building cooler when it's hot and save you money on your electricity bill.
Better Protection – Our roof coatings are also very impact resistant. If your commercial roof gets a lot of foot traffic, one of our roof coatings can help protect it.
Leak Protection – Flat and low-slope roofs need all the help they can get from leaks. A roof coating is a continuous membrane that can be applied with no seams and offers excellent leak protection.
In addition to roof coating installation, we also offer maintenance, insulation, and commercial roof maintenance services.
Quality Comes First
At Homesouth Roofing LLC, we have built a reputation based on quality work. We go the extra mile to make sure our work meets our rigorous standards. That's why we are the top choice for:
You can count on us to get the job done right every time so contact our team today!