Skip to Content
Professional Roof Replacement in Alabama and the Florida Panhandle
Residential & Commercial Roofing Replacements
Whether you own a home or business in Alabama or the Florida Panhandle, your roof is only designed to last a certain amount of time. Homesouth Roofing specializes in roof replacement services for home and business owners. You can depend on us for quality commercial roof replacement and residential roof replacement services. Alabama roofs are constantly exposed to harsh sunlight, strong winds, heavy rainfall, and other elements. Learn more about the reasons to have your roof replaced, our process for roof replacement, and more. Get in touch with us today to get your roof replacement estimate.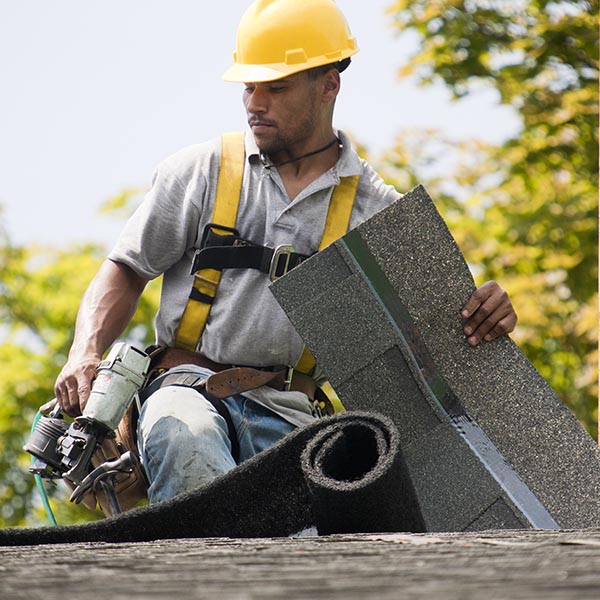 Reasons to Have Your Roof Replaced
As a home or business owner, it's critical to pay attention to the condition of your roofing system. Contact our local roofers immediately if you notice any signs of damage or have experienced any roofing issues. We can determine whether your roof should be repaired or replaced. Even if you don't see any visible signs of roof damage, a professional roofing inspection can give you peace of mind. Check out these reasons to have your roof replaced:
Curled shingles
Broken or missing shingles
Water leaking into your home or business
Severe damage from weather
The age of your roof has passed the average lifespan
The Roof Replacement Process
Roof replacements are more involved and labor-intensive than roof repairs. The process of roof repair starts with all the existing roofing materials being removed from your home or business. Your roofing system and decking will be inspected and any rotting or wet wood will be replaced. We then install an ice and water barrier, drip edge, and flashing. Once your roof has a waterproof barrier, we can then install your new roofing materials. Complete roof replacements are not often cheap, but your roof replacement cost will help you save money on roof repair costs and give you peace of mind for years to come. Get in touch with us to find out more about the cost of roof replacement and to answer the question "how much does roof replacement cost?".
Installing New Roofs for Area Businesses
When you need a commercial roof replacement for your business, our experienced roofers are at the ready. Small businesses are essential to the community, and we can install new roofs of any type. Contact us to schedule a roof installation, whether you need a metal roof, composition shingle roof, TPO roof, slate roof, tile roof, or built-up roof system.
Proud to Be Your Local Roofing Company
Homesouth Roofing is a local roofing company offering metal roof replacement and more in Alabama and the FL Panhandle. We're intimately familiar with the local Alabama weather and the damage it can cause to your roof. Our team of professional roofers is ready to visit your home or business and perform a roofing inspection. From there, we'll discuss your options and provide you with a roof replacement quote.
Solutions for All Roofing Problems
Your roof protects your home or business from the elements, so if something goes wrong you need to have it repaired or replaced promptly. We know time is money when it comes to business, so we work to replace your roof quickly to avoid downtime. Our experts won't recommend a roof replacement if a repair would be your best option.
Providing Roofing Service You Can Trust
We know there are other roofing companies in Alabama and the Florida Panhandle, but we're confident Homesouth Roofing is the best team for the job. We communicate with you throughout the process and are happy to answer any questions you might have. We use high-quality roofing materials designed to stand the test of time. Our established roofing company is ready to replace your roof to help your building stand up to the elements for many years. Contact us today to get started with your roof replacement estimate.