Skip to Content
Roof Waterproofing in Alabama and the Florida Panhandle
Essential Roof Maintenance
Roof waterproofing is essential roof maintenance in Montgomery, Mobile, and Birmingham as well as Pensacola and the Florida Panhandle. This region is no stranger to pouring rain and hail, so you need to make sure your roof is prepared for the harsh winter months—which only appear to be getting harsher. Here at Homesouth Roofing LLC, we offer roof waterproofing in because it is essential roof maintenance. Even small roof leaks can cause thousands of dollars in water damage and may even render your home unlivable. You can't afford to leave your roof and your home to chance, which is why we offer this essential service. Our roof waterproofing service is comprehensive. It encompasses everything from applying highly leak-resistant membranes to repairing existing leaks and making necessary upgrades. We offer both commercial and residential roof waterproofing services. There is no job too small or too large for us. Our roof waterproofing services will give you the peace of mind that comes from knowing that your roof is ready for severe winter weather. Don't allow for any vulnerabilities in your roof.
How Roof Waterproofing Can Benefit Your Building
Whether you are thinking about roof waterproofing for your home or place of business, this service offers distinct advantages to both types of structures. Advantages include: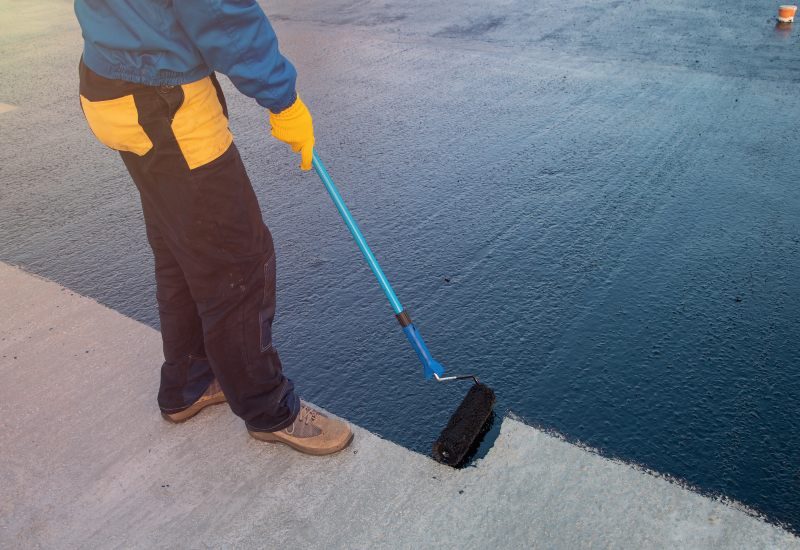 Avoiding Costly Repairs – Water damage from roof leaks can cost thousands of dollars. Roof waterproofing will help you avoid such repair costs. This is especially important for commercial buildings because leak damage for larger roofs can be significantly more costly.
Creating a Healthier Environment – When water leaks into your building, it eats away at the organic materials in the walls and framing. Mold and mildew usually begin to develop under these conditions. Mold and mildew growth can seriously compromise the quality of your indoor air and cause respiratory complications and allergic reactions.
Protecting Your Building – Water can damage your walls, your framing, and even the very foundation of your building. Roof waterproofing will go a long way toward improving the overall durability of your home or commercial building.
Providing a Smart Investment – Because roof waterproofing can enhance durability and longevity of a structure, it can also increase its resale value—making it a smart investment for owners.
Roof Waterproofing Methods
At Homesouth Roofing LLC, we want to offer your roof the very best protection. But what's right for one roof isn't always right for another. That's why we use different methods depending on the structure and the situation. We only employ industry-standard methods and use the very best products. Check out some of the ways we can waterproof your roof:
Liquid Applied Membranes
Spray-on coatings are excellent for shoring up existing leaks. They are thick, flexible, and self-healing. They can also be applied to virtually any roof substrate.
Sheet Membranes
Sheet membranes can be made from thermoplastic, synthetic rubber, or other materials. They form a watertight seal to the upper layer of many kinds of roofs.
Coating Systems
We offer a wide variety of roof coatings for commercial buildings that not only protect from water leaks but reflect UV rays, so your building stays cooler in the summer.
Why Choose Us?
Home and business owners turn to us for complete roof maintenance because we invest ourselves in each project we take on. We work on every roof as if it were one of our own, which is why we are so committed to quality roof maintenance and roof restoration. But that's not all we do here at Homesouth Roofing LLC. You can also rely on us for professional:
Your roof is in professional hands when you hire us. Make sure it's ready for any weather by reaching out to us!