Skip to Content
Welcome to Homesouth Roofing – Your Trusted Roofing Experts in Birmingham and the Surrounding Cities
Nestled amidst the rolling hills of central Alabama, the Greater Birmingham area encompasses a vibrant tapestry of communities, each with its unique character and charm. At Homesouth Roofing, we understand the significance of Birmingham and its neighboring cities, including Homewood, Mountain Brook, Hoover, Vestavia Hills, Alabaster, Pelham, and Trussville. Our commitment to these diverse communities goes beyond providing exceptional roofing solutions; it's about preserving the homes and businesses that make this region so special.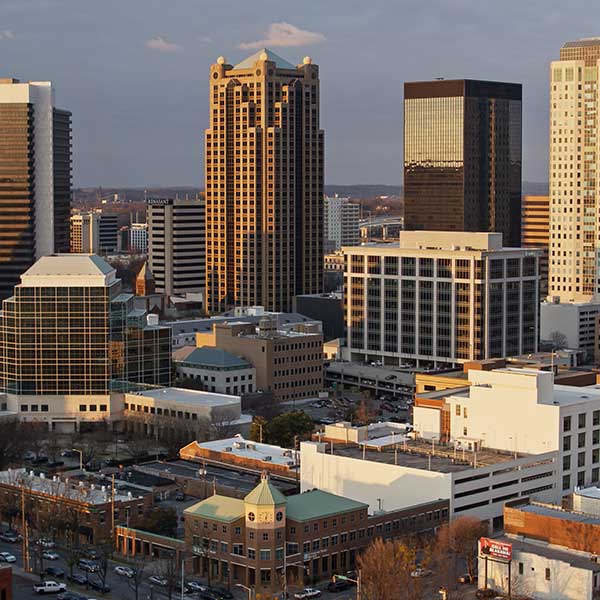 Dynamic Landscape: Our Local Roots and Dedication
Birmingham, the Magic City, is a hub of cultural diversity, historical significance, and a burgeoning modern identity. As more than just a roofing company, we take pride in being part of Birmingham's transformation. Our expertise extends beyond protecting homes; it's about ensuring that Birmingham's structures reflect the city's resilient spirit while embracing its ever-evolving landscape.
Licensed, Insured, Bonded – Your Assurance in the Greater Birmingham Area
As a fully licensed, insured, and bonded roofing company, we prioritize your peace of mind and the safety of your investment. Our commitment to safety, quality, and craftsmanship is backed by our credentials, giving you the confidence to entrust your roofing needs to us. Homesouth Roofing's dedication to excellence aligns perfectly with the diverse character of the Greater Birmingham area.
Unique Aspects of Each Community
Each surrounding city has its unique appeal:
Homewood is a charming, close-knit community known for its tree-lined streets, local boutiques, and a strong sense of community. Its picturesque neighborhoods and commitment to historic preservation make it a beloved suburb of Birmingham.
Mountain Brook exudes timeless elegance, with its stunning architecture, upscale boutiques, and prestigious schools. Known as one of Alabama's most affluent communities, Mountain Brook offers a mix of classic Southern charm and modern sophistication.
Hoover is a vibrant city with a thriving energy, home to a mix of entertainment, shopping, and excellent schools. It's the family-friendly atmosphere and diverse neighborhoods make it a sought-after destination for many.
Vestavia Hills boasts a blend of suburban tranquility and accessibility to city amenities. With its top-rated schools, beautiful parks, and a strong sense of community, Vestavia Hills is an ideal place to raise a family.
Alabaster is a growing city with a welcoming community spirit. Known for its family-friendly environment, Alabaster offers excellent schools, parks, and a convenient location for those who seek a blend of suburban comfort and accessibility.
Pelham offers a mix of small-town charm and modern amenities. With its beautiful scenery, outdoor recreation opportunities, and a growing economy, Pelham is a city where families and businesses thrive.
Trussville is a community known for its tight-knit neighborhoods, excellent schools, and a strong focus on family values. With a rich history and a commitment to growth, Trussville is a city where residents take pride in their community.
Excellence with Proven Integrity
Our A+ BBB rating stands as a testament to our unwavering commitment to excellence, honesty, and transparency. We take immense pride in this exceptional rating, earned through dedication to delivering the highest quality roofing services while prioritizing our clients' satisfaction. When you choose Homesouth Roofing for your property in any of these cities within the Greater Birmingham area, you're partnering with a company that values integrity and accountability as much as delivering excellent results.
A Promise for the Greater Birmingham Area
When you choose Homesouth Roofing for your roofing needs in the Greater Birmingham area, you're not just getting a roof; you're gaining a promise. Our 10-year warranty stands as a testament to our commitment to quality, durability, and long-lasting craftsmanship. We stand by our work, ensuring that your property in any of these cities remains secure, beautiful, and a testament to the unique character of this vibrant region.
Your Roofing Partner for Birmingham and Beyond
From the historic neighborhoods of Homewood to the elegance of Mountain Brook, the vibrant energy of Hoover, the community appeal of Vestavia Hills, the family-friendly environment of Alabaster, the charming mix of Pelham, and the tight-knit spirit of Trussville, Homesouth Roofing is your reliable partner for roofing excellence. Contact us today for roofing solutions tailored to your property's unique needs in the Greater Birmingham area. Experience the Homesouth difference, where the diverse character of these cities converges with our unwavering commitment to quality.
Choose Homesouth Roofing – Elevating the Beauty and Character of the Greater Birmingham Area, One Roof at a Time.